SAVE THE DATES!
Sight Fishing for Corbina!
with local Guru
Glenn Ueda

!

Saturday, June 17th (11am & 1pm)

Join fish magnet Glenn Ueda at Fishermen's Spot for an informative seminar on sightfishing for the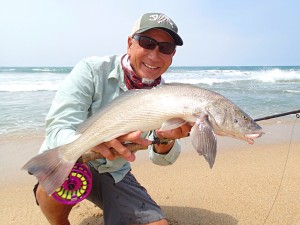 coveted California Corbina in our local Southern California surf just in time for the Summer Corbina Season! Learn the basics including seasonal patterns, food sources, tidal cycles, structure recognition and approach, balanced rods reels and tackle, proper leader construction, and effective fly patterns. If you are already an avid bonefish or carp fisherman, or simply looking to try the wonderful world of surf fly fishing, this is for you!  Checkout Glenn's recent article in the June edition of California Fly Fisher "The Ghost of the Coast: A Guide to Fly Fishing for California Corbina"!
Fly Tying Thursdays!
Bring your fly tying gear for after hours fly tying and shooting the sh_t!
We can't make it every Thursday so Call us to Confirm!

(818) 785-7306
(877) 785-7306 toll free