Ever Heard of the Saying "10% of the Anglers catch 90% of the fish"?
Let Fishermen's Spot teach you to become one of the 10%!
Have you been thinking about learning to fly fish but thought it was too difficult? We have the class for you! Learning to fly fish with Fishermen's Spot is fun and easy and we will teach you everything you need to know to embark on a lifetime of angling enjoyment!

Introduction to Fly Fishing Class
These classes are our most popular throughout the year.  David Shaffer's expertise has helped many newbies get their first fish on a fly!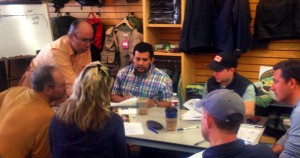 This one-day crash course is designed to simplify the sport. We will cover all the important basics and with a little practice with your knots and casting you'll be ready to hit the water in no time at all. The morning portion of the course will be a classroom format covering basic tackle, rigging, hands on knot tying, entomology, fly selection and the standard techniques used to fish dry, nymph and streamer patterns in both lakes and rivers. When you return from your lunch break we will move outside for a couple of hours of casting and line control instruction. This class is an excellent way to learn the basics and will provide with a solid foundation of knowledge to build on.  (5 students max.)
Class Size     5 (limit)
Class Fee      $125
Times            One-Day Course (Sundays 9AM – 4PM)
Upcoming 2024 Dates    
Jan 14 & 28, Feb 11 & 25
Location        Fishermen's Spot
To Enroll
Classes are limited to 5 students and usually fill up fast. Call or email David at the shop to enroll or get more information (818) 785-7306 or david@fishermensspot.com
Private Classes
Put together a group of 3 or more and we can arrange a private class. Call or email David Shaffer for more information (818) 785-7306 or david@fishermensspot.com

Introduction To Fly Tying
Join us and learn the basics from tying Master Glenn Hiroyasu.  This one day class is designed to give you skills to tie multiple pattern styles and is a great way to get into this facet of the sport!
This class is designed to teach, in a logical way, the basics of tying a fly. Each step in the process is a prelude to a somewhat more involved process. Each pattern is a prelude to a more involved pattern. In this class, tools and materials, proportions, methods of application and techniques for fishing the flies will be discussed. After completion of the class, the student will have learned the basic techniques for tying both moving and still water flies as well as having a basic selection of patterns.
Class Size                 5 (limit)
Class Fee                  $100 (plus tools and materials)
Times                         9:00AM – 3:30PM Sundays
Upcoming Dates     Call Shop for Schedule
Location                     Fishermen's Spot
To Enroll
Call or email Glenn at the shop to enroll or get more information Call (818) 785-7306 or glenn@fishermensspot.com
Can't make a scheduled class?  Leave your name and email address and we'll let you know the next available

Private Casting Classes
Fishermen's Spot offers one hour private casting lessons by appointment 7 days per week year around, weather permitting. Lessons are designed to address your individual skill levels and assist you in developing technique that will make your time on the water more productive. You may use your own equipment or we can provide top quality gear at no extra cost. Specialized casting instruction for intermediate or advanced is also available.
Class Limit      Arrange individual or group lessons
Class Fee         $50
Location          Fishermen's Spot
To Enroll 
Call or email David Shaffer to make arrangements or get more information (818) 785-7306 or david@fishermensspot.com

FLY FISHING 201:  Two-Day On the Water Fly Fishing Clinic

Join Dave D'Beaupre (guide, instructor and owner of Sierra Trout Magnet (STM)) and the STM pros on a two-day on the water educational experience to improve your fly fishing confidence and success. The guides at STM are fly fishermen, they don't cast out a stinky piece of bait to attract fish…
The Clinic will focus on the art of Nymphing, Dry Fly Fishing, and Streamers and you'll learn how to properly read water to see where a majority of the fish hold in the rivers currents to optimize success.